THE country's newest business process outsourcing (BPO) company believes that the Filipino talent in the BPO industry remains to be best-in-class.
"We believe that the Filipino talent possesses the highest levels of discipline, passion, and commitment. We are certain we can attract 900 new hires of such caliber," Roger Salazar, newly appointed country manager of R1, a leading end-to-end provider of revenue cycle solutions in the healthcare sector, tells FrontpagePH.com during the first day of training for newly hired Filipino talent for its patient contact center in Bonifacio Global City in Taguig City.
Salazar, who is a respected BPO industry veteran with more than 30 years of experience, explained that being an industry leader in transforming the patient experience and financial performance of healthcare providers, R1's presence in the country showcases a proven business model that quickly drives sustainable improvements to revenues and cash flows while reducing operating costs and enhancing the patient experience.
On the other hand, Kyle Sherer, Vice President, echoes Salazar's sentiments, saying that by expanding to the Philippines, R1 can look forward to employing dedicated individuals whose diverse experiences will make a difference to R1's growing global footprint. "We believe that we are all together better."
The choice of the Philippines as R1's latest growth center complements the company's core vision to bring together the best people and technology to deliver innovative solutions that simplify the healthcare experience. Sherer shares that R1's clear advantage includes the strength of its team, operational rigor and cutting-edge technology.
With R1's rapid growth in the United States and India and continued drive to enable hospitals, health systems and physician practices to be more effective, its choice to open its doors in the Philippines signals a similar faith in the Filipino at both the staff and management level of the R1 organization.
The new team leaders are already feeling the excitement at R1. "We hope to be up and running around June," says Salazar. By the time R1 receives it first call from the United States, there will have been 200 plus call enter agents hired.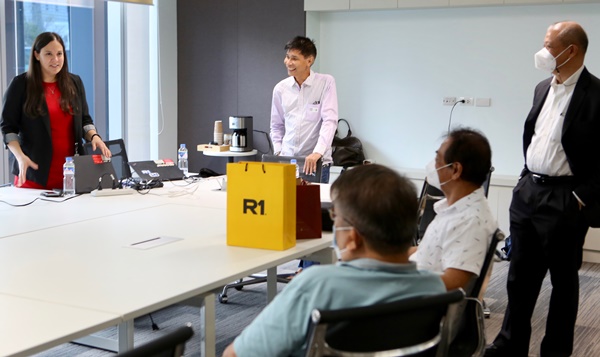 VJ Luteria, 28 years old, team leader at R1, says "As one of the pioneering team managers at R1, I am humbled and at the same time thrilled by the opportunity to use my talent, skills and knowledge to contribute to a positive customer experience."
Anabelle Moya, 47 years old, R1 Finance Lead, adds "With 12 years of experience behind me, I am excited by the challenge to build a highly capable R1 team working together towards operational excellence and contributing to the customer's success." 
With strict compliance to health and safety protocols, R1 began its week-long training program on April 11, 2022. Called "Patient Facing Operations," 60 of the newly hired employees participated in several sessions which included professional ethics, US cultural awareness, and hands-on training on proprietary technology tools used by R1. All the new team members also received R1 loot bags that include an R1 badge, R1 tumbler, and an R1 mousepad.
In addition to Sherer, other senior US officials present include Krista Katris, VP of Operations who is moving to the Philippines to lead R1's patient-facing operations, and Michelle Braymer, SVP of Patient-Facing Shared Services, PV Shrikanth, Scott Funk, Peter Jensen and Kollody Shivaram. Their presence highlighted the importance of the training program. "Through this training program, everyone will learn to deliver our innovative solutions that enable our US-based clients and health care providers to simply the healthcare experience for their patients," adds Salazar.
Making a difference everyday
Sherer says that each day, everyone at R1 makes a difference. "Whether it is setting up a patient appointment with a physician or facilitating an insurance coverage transaction, our work helps everyone in the US health care system," describes Sherer.
R1's intelligent workflows and automation help improve the patient experience and enhance the financial viability of hospitals, health systems, and medical groups.
The company's track record of 15 million automated tasks annually and 30 million patient encounters per year has been delivered by 28,000 plus employees across the US and India. "At the center of it all is our people, who all work with a strong sense of passion and purpose to deliver the best customer experience," says Salazar.
For more about R1 and career opportunities, click and send resume to careers.ph@r1rcm.com.